Quality, Tradition & Excellence
"Anticato a mano" shoes, the art of an Italian know-how…
Let's discover the unique know-how of the art of "anticato a mano" in our Tuscan shoe workshop. Because we share the same values of quality, tradition and excellence, these Italian craftsmen highlight the shoe collections of AAllard of Megève.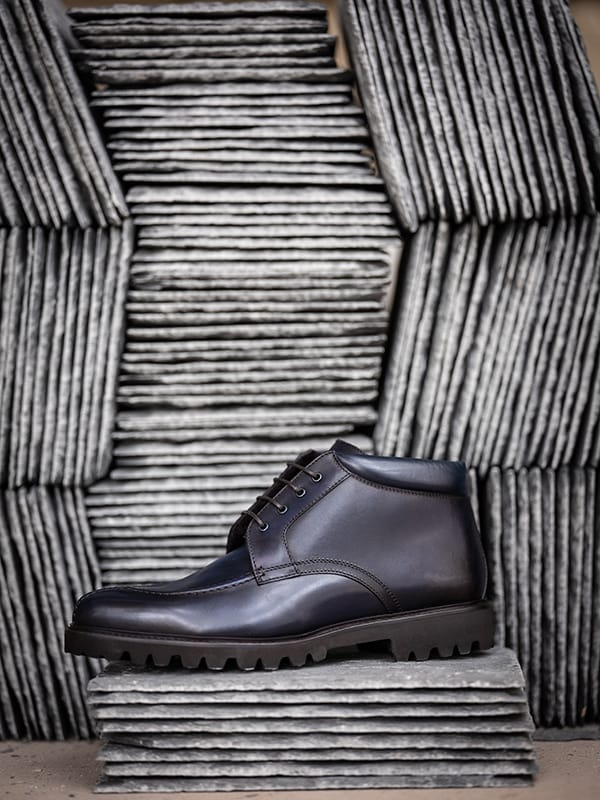 Wearing beautiful shoes is above all a pleasure, especially when they are made by craftsmen. They perpetuate traditions handed down for more than 3 generations. Another point in common with the Maison AA! Manufacturing processes whose philosophy is foremost the respect of the product, more than the output. In this workshop, where time stands still, more than 100 operations follow one another to make a pair of shoes. Processes harmonizing for a unique result. Step by step, from the selection of the leathers to the packaging, each phase is carried out with application and delicacy. This is why wearing AAllard shoes is a real experience that you can appreciate, among other things, in the "Mountain" collections at AAllard of Megève.  
Leather Renaissance
Among these steps, the process of "anticato a mano" is certainly the one that gives the unique character to a shoe. It is because the craftsman applies manually "a mano" his patinas that the leather is revived. A leather which finds all its relief and thus becomes exclusive. Depth of colors, appearance of grains, contrasts by effect of shades, all accomplished with mastery. Gesture after gesture, the colors harmonize. Just as a painter would do in front of his canvas. The anticato a mano is therefore a true art where the patina becomes watercolor.
Rediscover in video, the visit of our Italian craftsman in Megeve presenting us the process "Anticato a mano". During his visit, in the windows of the Maison AAllard in Megeve, place de l'Eglise, Felice reveals his know-how passed on for 3 generations in the Italian workshops. A unique moment in its kind.
A know-how among many others that you will have the pleasure to discover and appreciate in the AALLARD shoe collections for men and women. These collections are available in our accessories store, quai du Prieuré in Megève and now online: www.BoutiqueAAllard.com.