EVENTS
The Fuseau AAllard enters the history of Megeve
On December 7, 2012, Mrs. Sylviane Grosset Janin, Mayor of Megeve, inaugurated the official plaque affixed to the Maison AAllard in tribute to the creation of the first ski spindle by Armand Allard. As if to honor the event, the village square of Megève was elegantly draped in a majestic white coat for the occasion. In a magical atmosphere as we like them in Megève, the snowflakes twirling in blue light effects were invited to this touching ceremony orchestrated by the town hall and the Allard family. That day, the spindle inscribed the name of Armand Allard in gold letters in the great history book of Megève and fashion designers. Translated with www.DeepL.com/Translator (free version)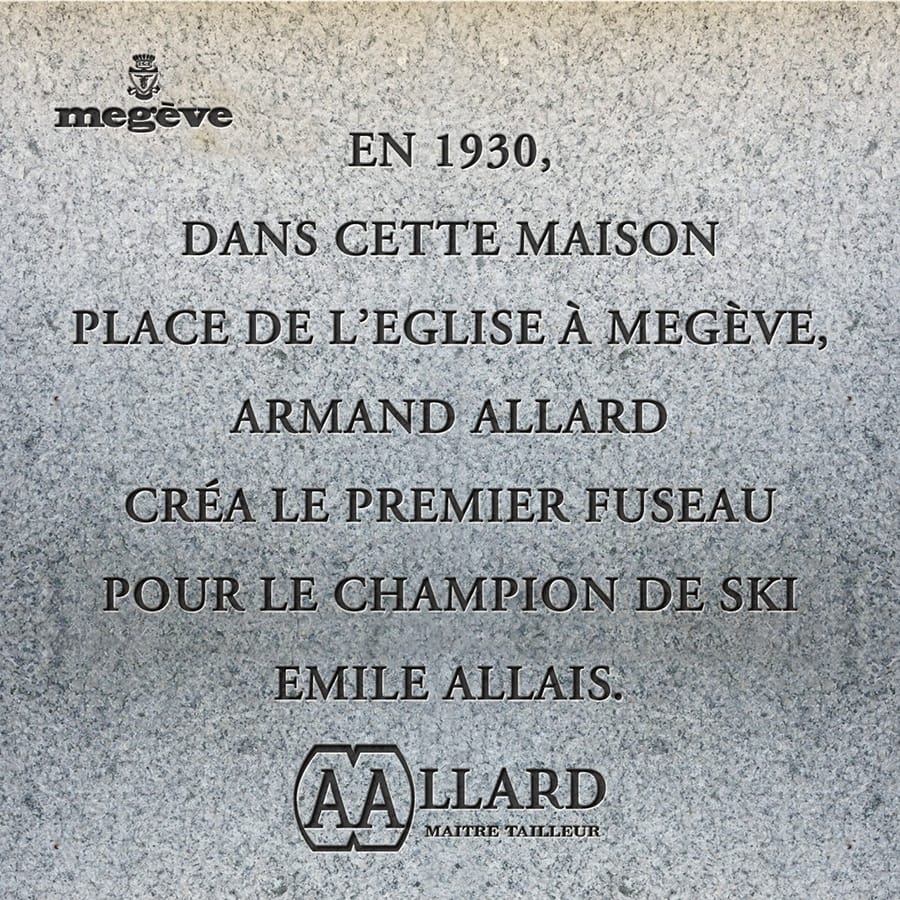 A mégevanne's Saga
While Sylviane Grosset-Janin, told with emotion to the Mégevans a fabulous story known to all, that of Armand Allard, the little tailor of the village who became famous all over the world, all the faces lit up as if they were hearing this beautiful tale for the first time.
That of a spindle which did not prick the fingers of a beautiful princess, but dressed Emile Allais, the most famous skier of Megeve, then the stars of the whole world and finally all the women nicely sheathed in these attractive ski pants, become a fashion accessory impossible to circumvent in the mountain as in the city. 
However, the story did not end with Armand's death. In 1962, Jean-Paul, his son, supported his mother and took over the reins of AAllard with his wife Sylvie. The family saga continued and continues today, as it should, from father to son, with Antoine, whose innovative communication techniques make the brand shine throughout the world.
Antoine makes it his duty – and a pleasure – to carry the values of a family that has been able to evolve and grow its image by proving that it loves more than anything… Megeve. It is involved, whenever possible, in local life, traditions, sports and cultural events. It supports artists whose works are highlighted in the windows, or outside, like the "Fus'Allard", the majestic bronze sculpture of Pierre Margara. Translated with www.DeepL.com/Translator (free version)
Beyond the Fuseau and the honor gave to Armand Allard, it was a recognition of the city of this dynasty which, despite its success, is more than ever faithful to its roots and is one of the best ambassadors of the station, with, in the village square and since the 1930s, the legendary house of the creator of the spindle.
discover the current collection of Fuseaux AAllard
Caroline GROULET (Dauphiné libéré)
Discover below the pictures of the event…