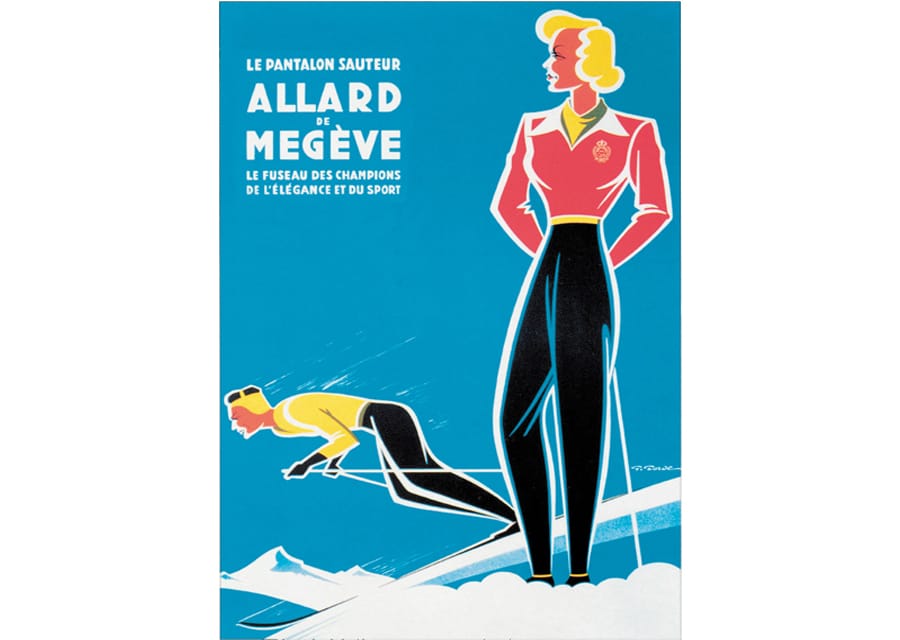 A concept, a legend and the savoir-faire of a Megève tailor
In 1926, Armand Allard opened his workshop on Place de l'église, on the first floor of what would become the Maison AAllard.
In 1930, the ski champion Emile Allais and his uncle Hilaire Morand ask Armand Allard to imagine a more practical pant than the "Norwegian" (golf of the time) for skiing. From this team work and tests carried out on the ski slopes for the cuts and materials : the famous fuseau was created.
In 1937, Emile Allais won the world championships of alpine skiing, dressed in this incredible "jumping pants", first name given to the fuseau. During this same year, Armand Allard also dressed the whole ski school.
In 1938, the fuseau evolved: it became narrower at the bottom, with a point at the front of the foot to fit the instep. New materials enabled the fuseaux to be made in knit and gabardine fabrics of all colors.
In 1950, elastic fabrics appeared: half wool, half nylon. It was a first evolution in comfort. The Megeve ski instructors were the first to test these new AAllard fuseaux.
In the 70's, this creation first reserved for professional skiers, then adopted by amateurs, left the ski slopes to find itself on the catwalks of the fashion shows and in the collections of great designers.
In 1980, the fuseau was declined in ready-to-wear in modern materials. Worn in boots in the mountains as well as in the city, these sport pant has become a real fashion accessory over time.
In 2012, the fuseau was honored in its village of origin, on the Place de l'église, by the Mayor of Megève who inaugurated a commemorative plaque recalling its creation by Armand Allard.
In 2015, imagination being part of the DNA code of the Allard family, Antoine, representing the third generation, perpetuated the family tradition of the tailor's spirit by launching a new collection of fuseaux cultivating both authenticity and modernity.
Never tight, always tense, the fuseau shape improves the body contour and lengthens the legs. Contrary to preconceived ideas, it adapts to all morphologies when it is made according to the rules. Part of its secret lies in its cut that fits but does not stick. It is because it benefits from a tailor-made adjustment made through individual alterations that the fuseau keeps its exclusivity away from the mass distribution networks. Now as before, the fuseau remains the emblematic product of AAllard, the only one to offer these unmistakable pants in its Megève boutique, for a chic and casual style in all circumstances…