Gifts
The must-have accessories
Just next to the main shop on Place de l'Eglise, in Megève, the AAllard accessories collections are enjoying a brand new setting. This newly remodeled space has been entirely redecorated in an even warmer spirit, with architectural ideas that are as surprising as they are attractive: when the accessory meets the essential, a visit is the only option.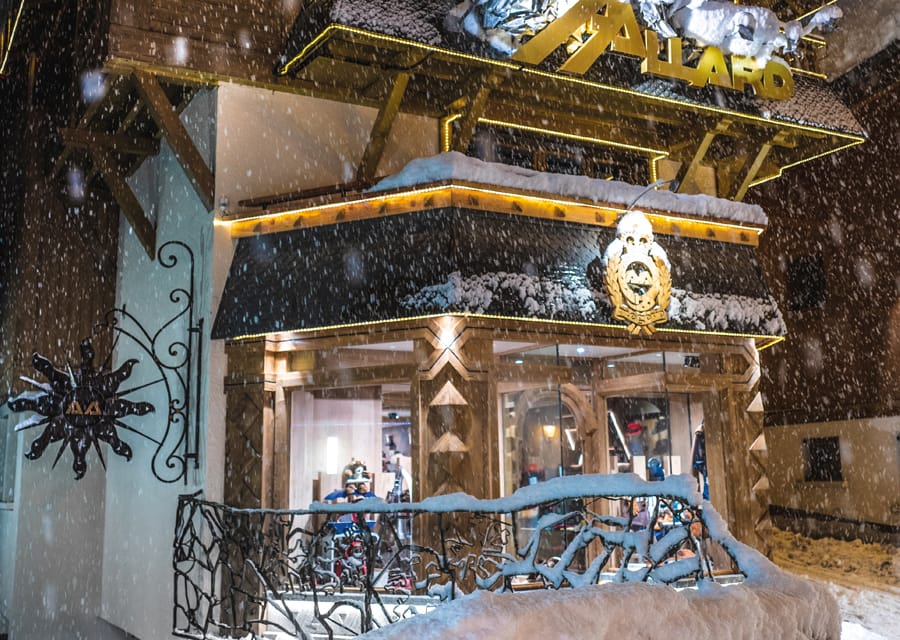 Oscar Wilde was convinced: the only way to get rid of a temptation is to yield to it. So you might as well know right now, when you will find out that, right next to the AAllard shop on Place de l'Eglise, there is a second store entirely dedicated to accessories, curiosity, desire, and eagerness will inevitably take you 37, Quai du Prieuré. Are you still resisting the temptation? Know that these accessories meet the high standards in terms of style and quality as the clothing collections bearing the AAllard label. As an extension of the AAllard spirit, luggage, shoes, hats, caps, scarves, gloves, belts, leather goods, umbrellas, etc. (many of which are crafted by partners with the "Entreprises du Patrimoine Vivant" living heritage label) keep you going back and forth from one shop to the other. Either to complete your shopping, tweak your style, or simply to treat yourself at affordable prices. Are you on the brink of falling for a silk scarf with its exclusive design, produced in an ultra-limited series by artists Guillaume Kowler or Didier Terme? A leather bag whose patina will only grow more exquisite with time? A pair of the famous sheepskin slippers, hand made by an English craftsman, that make you feel like you are sliding your feet into a cloud? Then know that the AAllard accessories shop has just reopened after a total redesign of its space and decoration.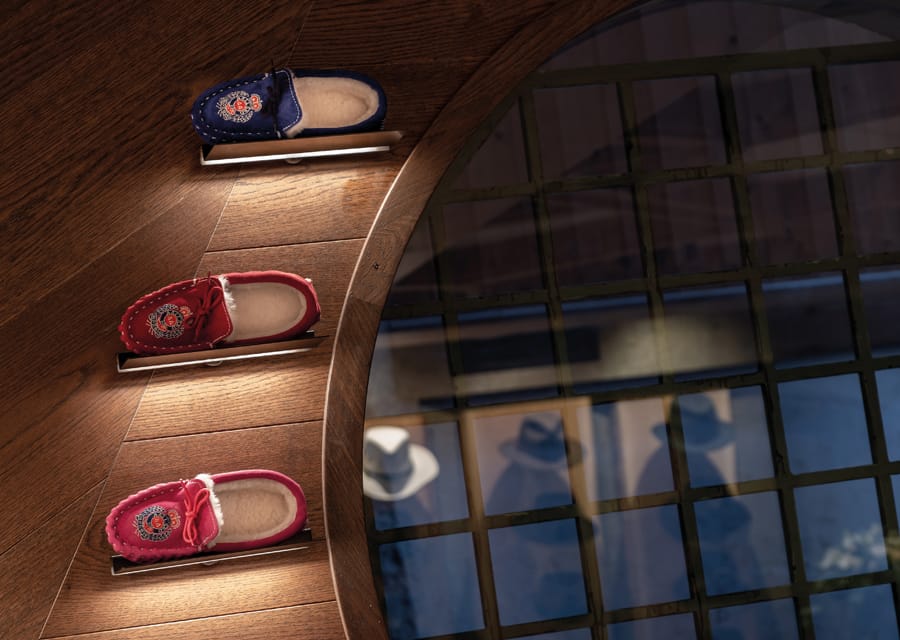 Impossible to fight the urge this time? Well, you're right. All you have to do is walk the 100 meters between the two shops. A practical and appreciable detail is the heated sidewalk with its granite base in front of the display windows to give you a snow-free place to shop. Let's take a look inside…
Wood paneled walls and stone floors
Those who are familiar with the shop in its previous version will be amazed. "The challenge was to design a different place from our flagship store while keeping the AAllard identity. To use similar materials but in an innovative way. To create an even warmer chalet atmosphere. To transform without altering. To modernize while reflecting our past".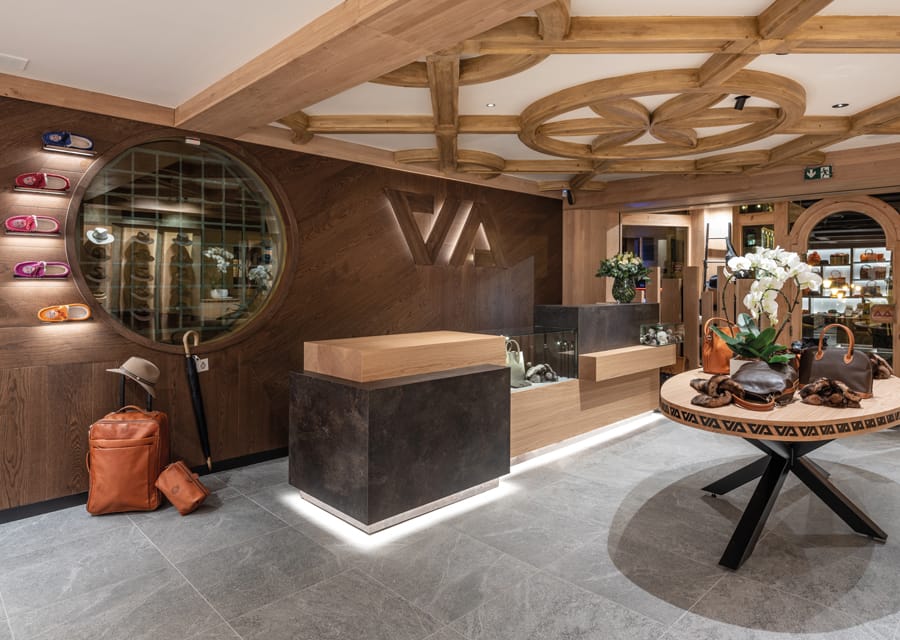 This very delicate mission resulted in a totally unexpected decoration. Classic materials for the horizontal surfaces and wood paneling that very creatively dresses the walls with the brand's emblematic letter A. Meanwhile, stone has left the walls to cover the floor. The old spiral staircase? Gone. The ceiling's raised geometric decoration has been preserved to work as a link between yesterday and today.
Flooring in light gray porcelain stoneware, walls in dark wood, furniture in knotty light oak form a color combination that provides a feeling of warmth, gentleness and harmony that further accentuates the lighting that enhances the different volumes. None of the light sources can be seen directly, but projectors, tubes and lightbulbs cleverly directed towards partitions showcase the items on display and enhance them.
A bold hat rack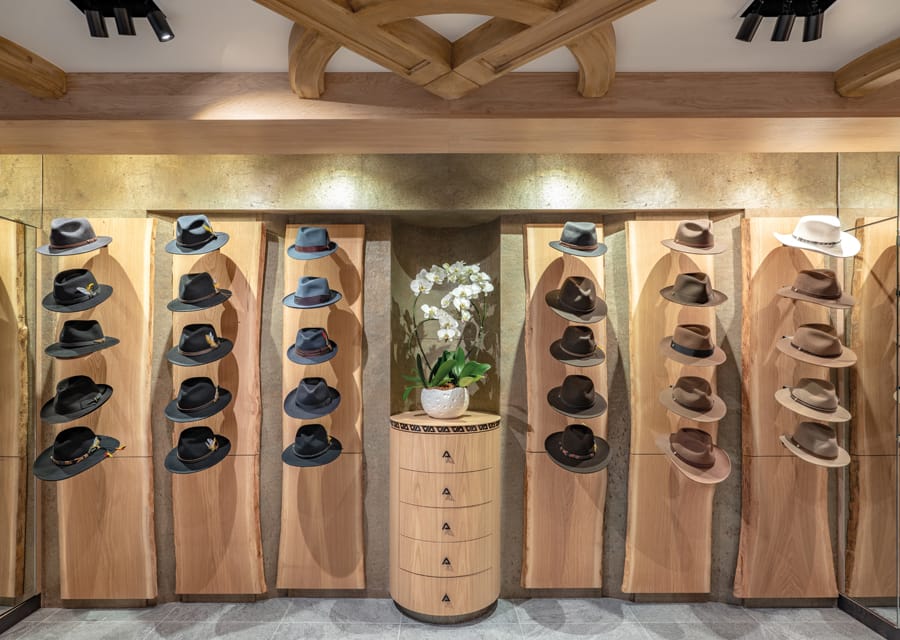 No decoration is complete without strong pieces that catch the eye and surprise. In the AAllard accessories shop there are at least two of these X factors. To highlight the hat collections, Antoine Allard decided to hang them on vertically aligned rustic boards that still have their bark on the edges. The choice of combining the raw dimension of a slab of tree trunk that looks like it came straight from the sawmill with the luxury of the hats in their refined colors is the dazzling result of a real esthetic statement. Just like the reception desk that looks like stacked blocks of wood.
And then, at the back of the shop is another highlight of the new design : a large metal fireplace, perfectly functioning, edged with a stock of logs inside three backlit display niches. Just imagine the pleasure of trying on a pair of shoes, comfortably installed in front of the crackling fire…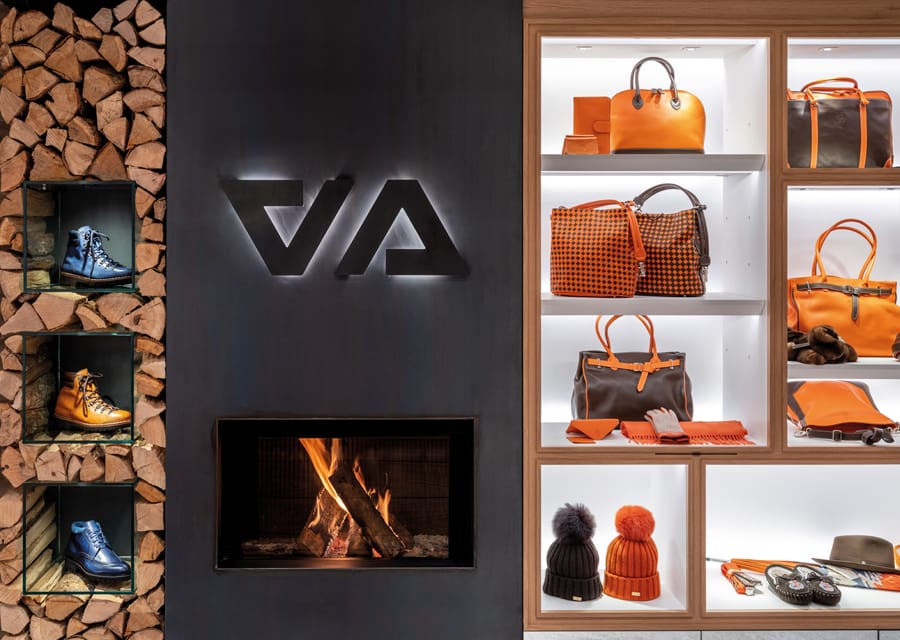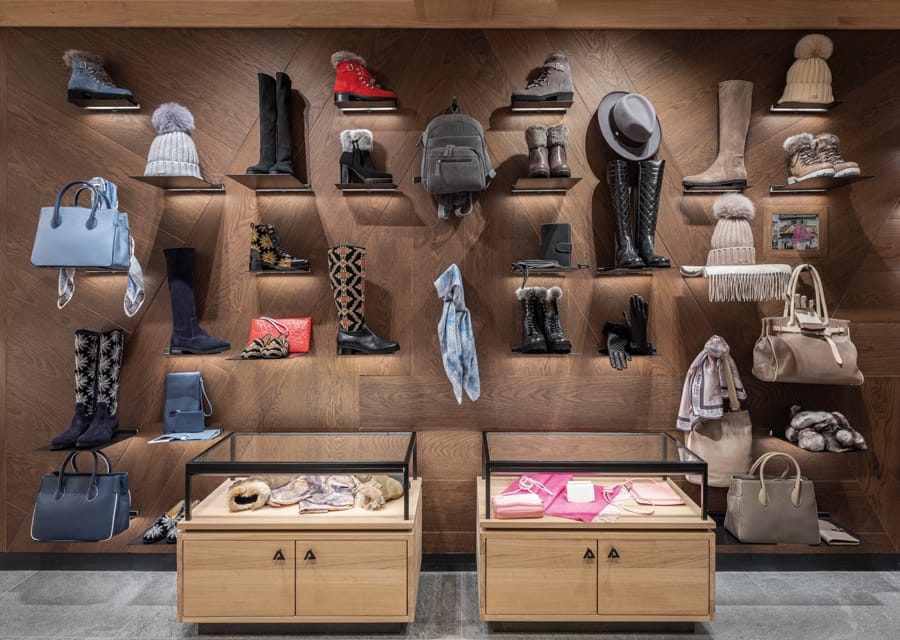 We could keep on describing each area in the shop, point out each clever decoration detail, mention the inside islands that work as both display tables and benches, talk about the choice made by Antoine Allard to renew with the historic logo from 1970 that juxtaposes inverted A's. Yes, we could do all that, but the description could never replace the pleasure of coming to breathe in this new atmosphere and discovering all of the AAllard accessories collections in their revisited setting.